Creating Sanctuary for Spiritual Growth, Emotional Healing, & Physical Balance
I am committed to providing therapeutic massage for the relief of stress, tension and chronic pain, working in conjunction with other prescribed treatments to facilitate the healing process.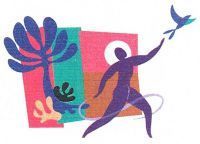 I offer therapeutic massage and bodywork as well as craniosacral therapy, lymphatic drainage, Reiki, medical massage techniques and Healthy Living Coaching. Conditions benefiting from this experience include Fibromyalgia, chronic pain, stress related auto-immune diseases and anyone seeking relaxation and energy enhancement.
Norma Keywan is a State Certified Massage Therapist and a Registered Nurse.
Come see us at the historic Old Town Hall Center and relax with a therapeutic massage from Norma Keywan,RN,CMT.
Gift Certificates Now Available